As a Life Coach, my goal is to help you break free from the past and discover God's abundant purpose for your life. God wants to you to bloom! Transform your soul and realize your true potential through the power of God's Scriptures:
Joshua 1:8: "This Book of the Law (Bible) shall not depart from your mouth...For then you will make your way prosperous and then you will have good success."
God's plan for your life is success and satisfaction, but He requires your participation.
Luke 1:37 – "For with God nothing will be impossible."
 God's plan for you is to close out the past, bloom in the present, and move toward the future.
Discover your greater life purpose today! Life coaching sessions help you break through negative thinking, release the past, and move forward in freedom! The power of Scriptural counsel, received through the Christian coaching offered, will enable you to not only deal with, but OVERCOME fear, phobias, stress, anxiety, insecurity, unworthiness, depression and much more.
What are you waiting for? Unlock God's potential for your life –
click here
to learn more or schedule a session today!
Barb Rachner Ministries has three major areas of focus:
Life Coach sessions Discover a powerful Scripture-based approach to leave your past in the rear view mirror as you unlock God's purpose for your life.
Speaking engagements Educate and encourage people to discover God's proactive plan by using the Scriptures as a resource of empowerment.
Authoring books Share God's gift of the wonderful power of Scriptural prayer with parents of all ages: See below an excerpt from Power Parenting Easy As A,B,C.
Here is a sneak peak into Power Parenting Easy as A,B,C: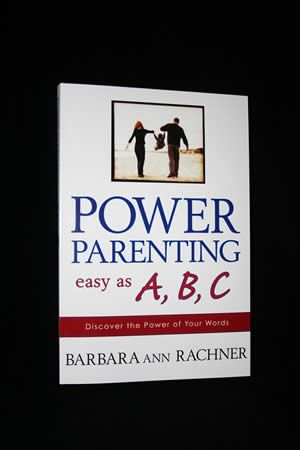 "What you say is what you get. The world calls it self-fulfilling prophecy. Positive words lead to positive change; negative words lead to destruction. Whether you believe it or not, there is a God in Heaven Who desires your children to be far more successful than even you, as a parent, could possibly imagine. In addition, He desires for you to experience a level of satisfaction in parenting that surpasses even your wildest dreams, goals, and expectations. He has already prepared a perfect plan for parents: THE SUCCESS OF YOUR CHILDREN IS IN YOUR MOUTH. As the title of this book indicates, there is an available power behind parenting that can guarantee your children's success. Whether you are doubtful or just plain skeptical, give this book a chance to show you a way to revolutionize not only your family's destiny, but your own as well."